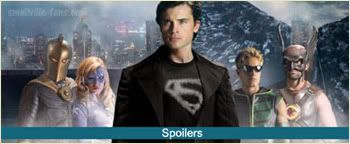 Question: I just read that Alaina Huffman will be returning to Smallville in the show's May 14 season finale, "Salvation," as Dinah Lance/The Black Canary. Will any other members of the Justice Society or Justice League appear? —Aled
Ausiello: Yes indeedly do. The finale will also feature comebacks by Hawkman, Cyborg, and Stargirl.

Question: Can you maybe try to narrow down who's getting a visit from the Grim Reaper on Smallville ? –Alex
Ausiello: It's not Lex. Or Clark. Or *****a.

Question: LESS ASTERISKS! MORE LETTERS! BY TOMORROW! OR THE SMURF DIES! —Graham
Ausiello: A *a*o* *o***e *i** ***a* **.
Acabo de leer que Alaina Huffman regresará a Smallville en el episodio final del 14 de Mayo, "Salvation," como Dinah Lance/The Black Canary. ¿Aparecerán otros miembros de la Justice Society o la Justice League? —Aled


Ausiello: Sí efectivamente lo harán. La finale también contará con el regreso de Hawkman, Cyborg, y Stargirl.



¿Puedes quizá intentar reducir quién va a tener la visita de la Señora de la Guadaña en Smallville? –Alex


Ausiello: No es Lex. O Clark. O *****a.



¡MENOS ASTERISCOS! ¡MÁS LETRAS! ¡MAÑANA! ¡O EL PITUFO MUERE! —Graham


Ausiello: A *a*o* *o***e *i** ***a* **.